The Austin console of today is the result of over 100 years of study and experience in the design and manufacturing of fine organ consoles. Simplicity of design, perfection of control together with complete reliability and accessibility of mechanism have always been our guiding factors. The hand-finished exterior of the Austin console conceals a mechanism of tremendous strength. Our consoles are crafted to machinist's precision. Steel frames are used for rigidity; seasoned woods are selected for durability and appearance. Because of our unique construction and the fact that the basic design is so inherently stable, our consoles are universally known for elegance and dependability.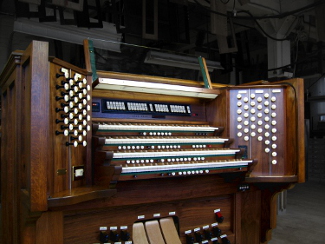 An Austin console was used to guide the American Guild of Organists in 1932 to develop the new standard for organ console dimensions. Over 50 patents have been applied to various Austin console components throughout our history, including our distinctive keyboards and pedalboards. Only the best materials are selected for durability and appearance; drawknobs, stopkeys and pistons are engaged with precision and ease.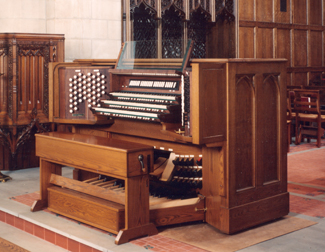 The top-resistance touch of the Austin key action is a touch designed after the Steinway piano of the early 20th century. It is heavier at the beginning of the downward motion than at the end, giving the luxurious feeling of an ideal piano or perfected "tracker" touch. It aids clean playing by providing a firm top, thus avoiding unintentional key depressions, and also permits setting the contact point closer to the top of the stroke, facilitating simultaneous chord playing. Every musician will recognize the value of this perfection. It is of interest to note that this touch is accomplished without additional parts (as some other builder's attempts to imitate our touch have designed) so our touch never goes out of regulation. We provide a clean, crisp touch with an action as prompt in attack as it is in release, thus allowing the performance of the fullest expression of individuality.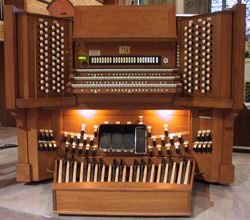 Our manual claviers are made of alternating basswood for stability, covered with 10-cut bone and ebony or walnut. Our pedal claviers are made of solid rock-maple with ebony or walnut sharps. There is no plastic found on our manual or pedal claviers. This design decision reinforces our concept that a quality pipe organ should have claviers that feel as great as the instrument sounds.
Whether building drawknob or traditional Austin stopkey consoles, every care is given to ensure that the console is built to these exacting standards. Every Austin console must also meet rigorous and relentless final testing to ensure the outstanding quality assurance we promise. Electronic control systems are "burned in" for days, to be sure that each component is operating perfectly before leaving the factory.
Modern consoles also utilize the latest technologies: fully solid-state control systems, data cables (whether CAT-5 or fiber-optic), and MIDI compatibility allowing the addition of digital voices. Depending on the organist's needs, we also employ numerous other accessories such as transposers, piston sequencers, record/playback, and of course, multiple memory levels.
If funds require the reconstruction of an existing console, this is an option that we can also accommodate. As part of this type of project, we re-do the electronics within the console as well as repair or re-finish the console cabinetry. We would welcome the opportunity to discuss possibilities in greater detail. Please download the accompanying brochure for more information.