<![endif]>
Rebuilds and Restoration
With over 2000 pipe organs still in service following their installation, we at Austin Organs, Inc. are committed to ensuring that our instruments endure. We perform routine service and repairs on both Austin and non-Austin pipe organs, and we can provide customized additions, new or rebuilt consoles, or complete organ rebuilds to suit our clients' needs. These services are by no means restricted to organs built by Austin; in fact, during the 1970's – 1990's, as pneumatic consoles by some other builders were failing on a regular basis, we were installing nearly one new console a month on non-Austin organs.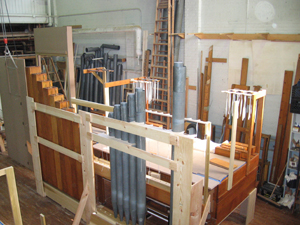 Austin Organs Inc. maintains archives of nearly every Austin instrument built since the late 1800's as well as repositories of information about organs built by the Skinner and Moller companies. We also work with other builders who work with us to provide information about their installations.
When an organ project requires a complete dismantling, we return the instrument (or major portions of the organ) to the factory where we rebuild, test, and return it to the church in like-new condition.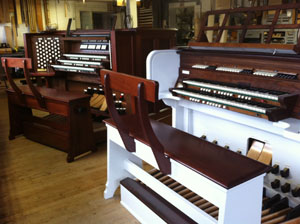 We take our charge to complete these projects responsibly and artistically, routinely working with committees, organists and consultants. Perhaps most importantly, we strive to complete the project within the church's budget. The church's needs and desires drive our effort, not the other way around. After more than a century, we have not forgotten that we are a service business first.
Please share your desires and requirements with us; allow us to visit the church, meet with your committee and draft a plan that works for the organ and the church. We pledge to do everything in our power to assure that you will be delighted with the results.