1892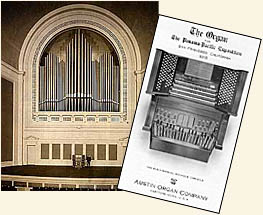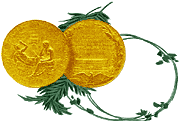 Awarded at Jamestown Exposition,
1907 to Austin Organ Co. , for
Austin Universal Air Chest
with Electro And Tubular
Pneumatic Actions.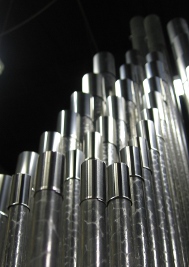 Englishman John T. Austin joins Farand & Votey, Detroit.
1893
J.T.A. (age 24) develops Universal Air Chest System.
1893
Clough & Warren, Detroit, builds first Austin system organ. B.G. Austin joins firm.
1898
J.T.A. sets up Austin system at Karn & Warren, Woodstock, Ontario.
1898
Austin Organ Company established in Boston (J.T.A.aged 29).
1899
Company relocates to Hartford, CT.
1903
Robert Hope-Jones joins firm (leaves 1904).
1903
Slider chest using aluminum sliders introduced (dropped 1906).
1905
All-electric console developed.
1911
National reputation established.
1913
Design of modern Austin console developed.
1914
Automatic Player developed (Quadruplex player developed 1924).
1917
J.T.A. wins Franklin Institute award.
1917
Period of major production opens
(1927 peak sales year).
1919
Austin console design refinements.
1921
Austin chest design refinements.
1932
Further refinements on Austin chest design.
1935
Austin Organ Company begins liquidation.
1937
Austin Organs Inc. formed. Factory moved to present location.
1941
Factory makes glider wings for war effort.
1949
Richard J. Piper named tonal director.
1973
Donald B. Austin appointed president.
1978
David A.J. Broome appointed Tonal Director.
1998
Kimberlee J. Austin appointed president.
2006-present
Company purchased by Richard Taylor & Michael Fazio.
Richard Taylor, C.E.O.
Michael Fazio, President & Tonal Director.